How to Find Buying Groups
Another method that can be very useful for MS is buying and selling for "buying groups". There are several groups available; however, I have had a lot of good luck with one buying group in particular and it is Pointsmaker.com. I recommend that you do your own due diligence on this particular group and any others that are available as things may change in the future.
Buying groups can be an effective method to quickly build up your points, miles, cashback rewards or simply hitting certain sign-up bonuses. Essentially you are buying certain items these groups need using your credit cards to order products online and shipping them directly to the group. Once they receive the product they mail you a check for the price of the item and the flat fee that is agreed. See there can be certain rules and restrictions when a hot new product comes to retail where a store won't allow a customer to buy more than 2 or 3 of that product. However, these buying groups incentivize people to buy, by paying a small premium over the retail price and get a ton of people to do the same. This allows the buying group to pay a couple of dollars more for the product however now they have a strong grip over the supply and demand and can charge a higher premium when they go to resell.
The process is simple
You will need to go to Pointsmaker.com and start by setting up an account with them. From there, you will be searching through their lists of specific items that Pointsmaker needs to be purchased.
Why this exists?
There are situations where there are buyers from around the world who are unable to purchase in bulk what they are looking for, and they will contact Pointsmaker to help them complete their order.
They can often be orders that are limited by quantities from the seller of a discount, a sale, or some other opportunity. These buying groups are created so that one company can get around the limitations of the sale to receive the discounted price, and you are able to get the points for the purchase.
The process, in short
Again, in essence we are using our own credit cards to make the purchase and then sending the purchase to the Buyers Club which gets it to the ultimate buyer; when they (the club) receive the merchandise, then a check will be sent to you (via mail) for the price of the purchase. And then, the buying club will take the items and disperse the items to the individuals that requested the purchases.
This is a simple process and you can go very heavy on it to build up a lot of points.
Setting up your account
Getting started is a straightforward process you just need to click on the link HERE and set up an account.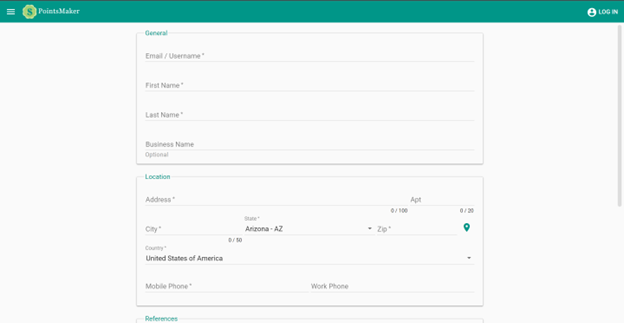 Once filled out, you will see a page like the following and have to verify your account after receiving the email.

It takes about 7 to 10 days to receive your check used to pay off the card, so make sure that your closing dates are covered so that you are not getting a high balance and risking your credit scores dropping low.
Buying Items
You can purchase items with their dashboard, and you will generally receive emails with notifications of items that they are looking for. These will include "hot items" that they need in large supply. This system can set you up for some great success.
Beyond buying clubs
You can get creative and do something similar. I have seen some people get the notification through Pointsmaker and then go to buy the item that is a single quantity but is desirable, such as a rare coin for $70. The buyer will then take the item and sell it on eBay for close to $1,500 down the road. You could also have friends send you the coins, and you pay them for buying it, then you are the eBay seller.
A few words of warning
In my circle of friends, I have not heard of anyone that has had problems with Pointsmaker.com. I have heard of other buying groups that have had problems; so be cautious. Some of those bad groups people have not received their checks, or the person that sent the item messed up their confirmations. Make sure you understand the entire process from beginning to end.
Especially when you start, be careful and only buy what you can cover with your current deposits; going beyond this level can put you at risk. Do remember that you are buying with a credit card, and there are many protections with credit cards.
Pro Tip: If you don't get your money back, you can file a claim with the credit card company to get your money back through them as a fraud transaction. It may take a while, but you can potentially get paid back. You can state that you did not purchase these items or they were never received by you in order to ensure that you are not fully liable for the purchases that were made.
Summary
If you use this method as a great one to build up your MS then you can take advantage of it in multiple ways. Just make sure you understand everything and follow the rules of a reputable service like Pointsmaker.com. If you can find other ways to build up your profits through some strategic buying/selling, even better. For more next level education on all things credit related please check out CreditCounselElite.com.
Good luck, and God Bless
Brandon
Credit Counsel Elite teaches business owners how to get up to $500k every 6 months at 0% interest. Check out CreditCounselElite.com or CLICK HERE to learn more.