The Dun & Bradstreet D‑U‑N‑S Number is a unique nine-digit identifier for businesses. It is the number used by lenders or potential business partners to aid in predicting the reliability and financial stability of the company. In simple terms think of D&B as a business credit bureau (similar to Experion, TransUnion, and Equifax for personal credit) where lenders will verify your creditworthiness and also report your actual borrowing habits to be viewed by other lenders. DUNS stands for "data universal numbering system," and the service is used to maintain an up-to-date and timely information resource for hundreds of millions of global businesses. A DUNS number also provides any relationships, linkages, or hierarchies between corporate entities, and many tradelines will report to DUNS.
Normally you have to pay a fee (about $350) for expedited service to create your DUNS number, but using the free service will get you your number fairly quickly (it does not take very long, a few days, in many cases) however depends on the season throughout the year and how many applications are pending. There are no longer ways to get an expedited service through the Apple or governmental services which used to be an amazing 24-hour guaranteed turnaround for FREE with credit hacks know-how.
PRO TIP Make sure that you have a business phone number, and business email set up, know the business address you plan to use, and have at least a registered and owned domain name for your business website too before you begin. You will be asked to supply this information and you don't want to have to redo it again in the future or go back and forth wasting time.
Let's get right to it……
You will start by going to the following link. https://www.dnb.com/duns-number/get-a-duns.html
And you'll want to start filling in your business information.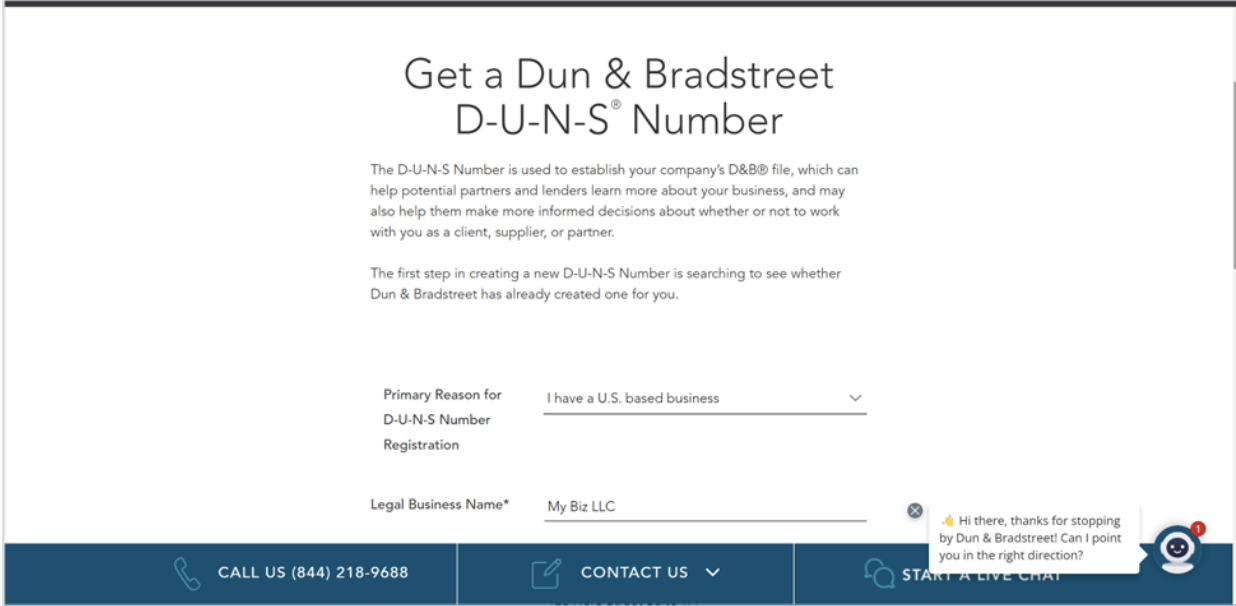 You will be provided a list to confirm that you are not one of the companies that are listed already with a confirmed Duns number. In some cases, if your business is seasoned and getting lines of credit, etc. then D&B may create a Dun's number on your behalf so please double-check upfront to see if your business already has a Dun's number created.
If you have not already set up a DUNS account (not just a number, you can set up several numbers under one account), you will need to do so now, and they will send you a temporary password to get it registered.
Once registered, you will need to fill in the following information: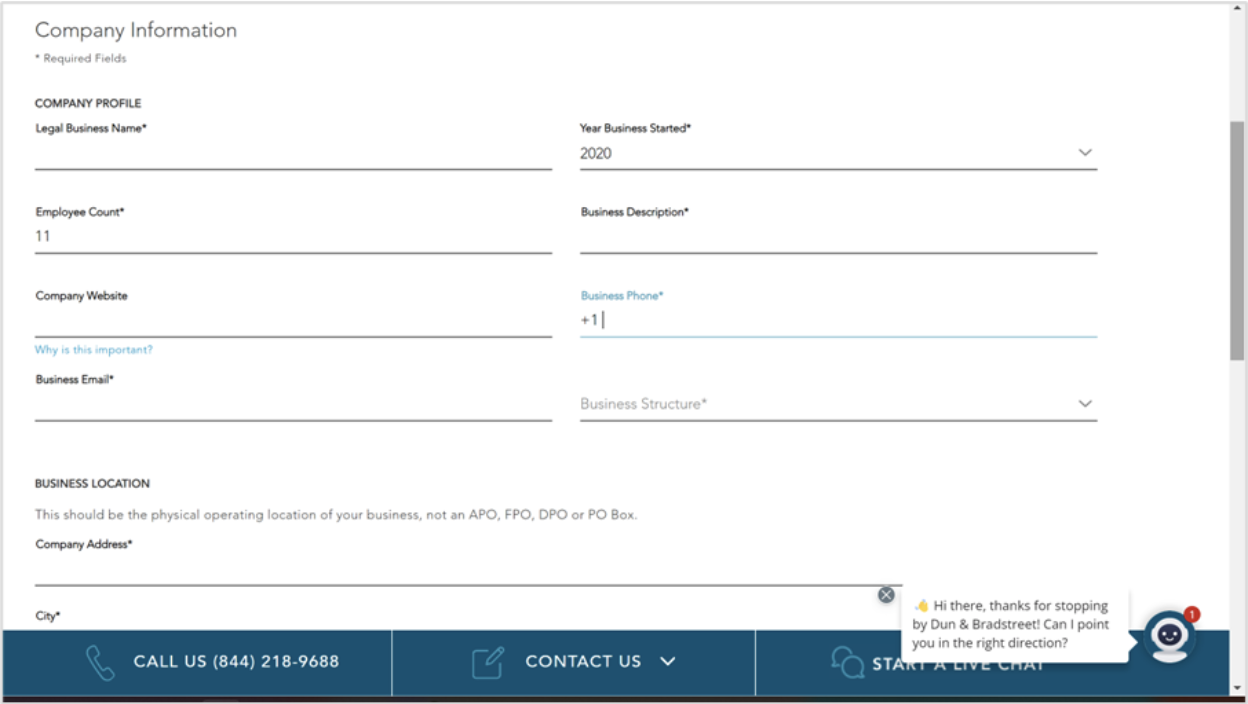 For job title you will put what makes sense; either "President," or if an LLC, then potentially a "Member."
Make sure to choose a business from the list. It will be rejected if it is not already a list item.
For the number of employees, you'll want to put 10 or more, and for the revenue, you'll want to put over $1 million. There are certain algorithms that will set you up for success, and so this is needed to get the best access to credit. But don't worry this is all stated and not verified if your business is just getting started.
They will ask for Social Media (LinkedIn, Twitter, Facebook); another reason to have your business foundation in place in advance.
When asked if this is a home-based business, answer "no." This is another item related to the listing success algorithm.
You will also need to attach some legal documentation showing the business's name and address clearly indicated. This can be from the secretary of state, utility bills, and/or the articles of incorporation. Again this is part of the reason we want to have our business entity foundation already created.
Once filled in and submitted, you will see a message that looks like this…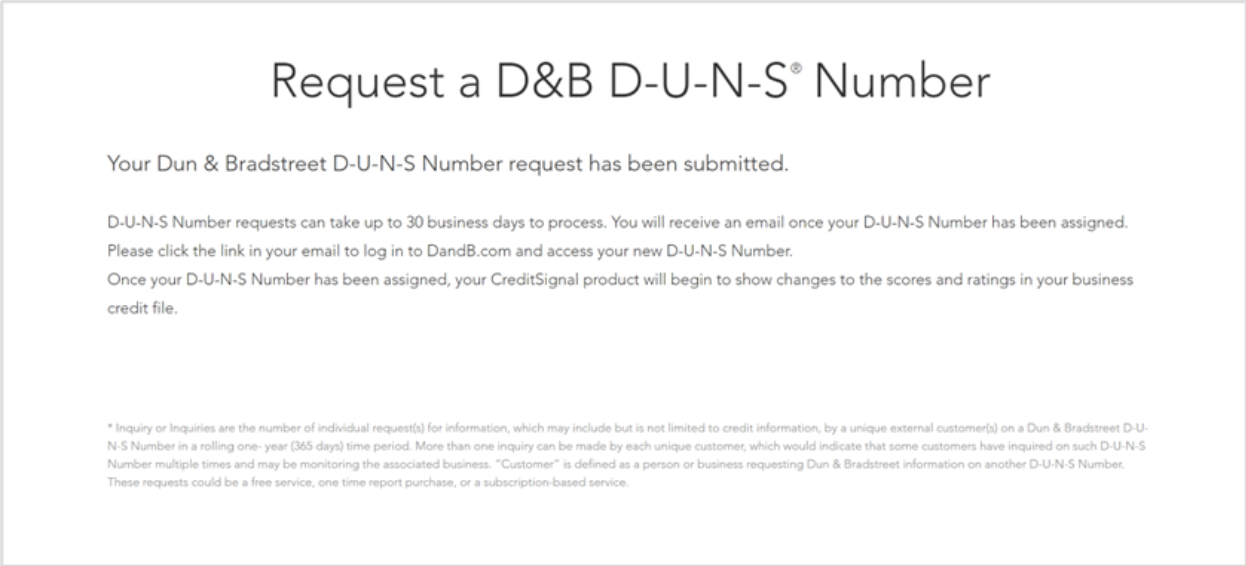 You can log in to the Dun and Bradstreet website to check the status of your submission.
The process can take up to 30 business days, but it is usually done much sooner. You can see from the above that the DUNS number is still pending.
The sooner you get your DUNS number, the better. Get your business foundation in order, then submit for your business's DUNS number ASAP; you will have access to the best credit opportunities in the future taking you to the next levels.
At Credit Counsel Elite, we teach business owners how to get up to $500K at 0% interest every six months; for more information, CLICK HERE