$80 Luxury Suites Travel Hack
Now that I have shown you how you can use the various codes to get discounts for Marriott properties in the previous article (HERE), I am going to give you the knowledge to level up.
This is a method where you can get an upgraded room at some of the best hotels for under $100, but it does take a few steps to get these great deals.
American Express Platinum Card
To take advantage of this travel hack you are going to need the American Express Platinum Card.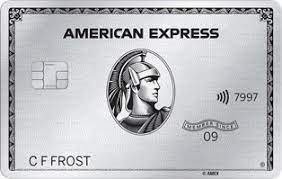 It can be any version of this card (AE's own version, Schwab which is what I recommend when possible, Morgan Staley, Personal or business version, or another) but it has to be the platinum tier card.
You will start by going to https://www.americanexpress.com/
From there, you will want to choose the travel tab and you will look for the "hotels" section. I suggest start with the "Book fine hotels and resorts" and if you can not find what you want then move down to the "Book the hotel collection." Either will work for our needs but fine hotels are better.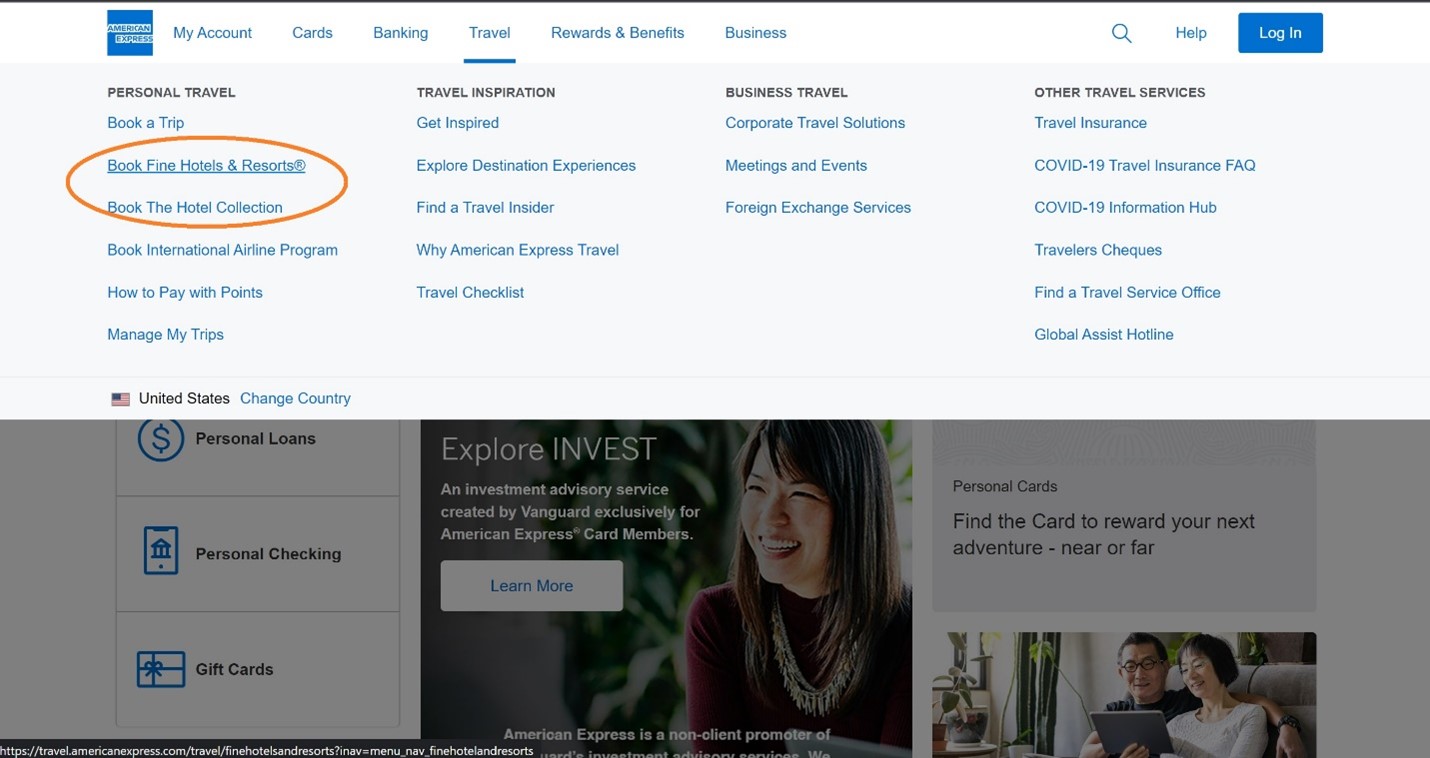 Once there, you can note that you are offered some special amenities if you book using the American Express website:
ROOM UPGRADE UPON ARRIVAL, WHEN AVAILABLE(I can tell you from experience this is over 90% of the time)

DAILY BREAKFAST FOR TWO PEOPLE(usually this is a $30 credit/person so always book for two people even if staying alone)

GUARANTEED 4PM LATE CHECK-OUT

NOON CHECK-IN, WHEN AVAILABLE

COMPLIMENTARY WI-FI

EXPERIENCE CREDIT, SUCH AS A SPA OR FOOD AND BEVERAGE CREDIT(you should find out what this credit is and what is offered it is usually a $100 credit if you don't spend it they will generally put it on your room but you may need to make a small purchase like a mini-bar water or a $1 item at the gift shop to kick in the feature)2
With the "experience credit" if your bill is $180 then they will put that credit toward your bill; lowering it down to $80.
Pro Tip: If you are booking through "the hotels collection" you must stay two nights and you only get the $100 experience credit and upgrade not the breakfast and other things.
The benefit of this particular website is that these will be the lowest rates guaranteed. They will match anything you can find and they will stand behind it as well.
Using the Marriott site to get discounts
After you have identified the hotel that you are interested in, then you will go back to the Marriott site that I discussed. Click on the "find a hotel" without putting in the destination, and then, you will be changing the "none" under "Special Rates"to "Government & Military" and find one of the high-end properties.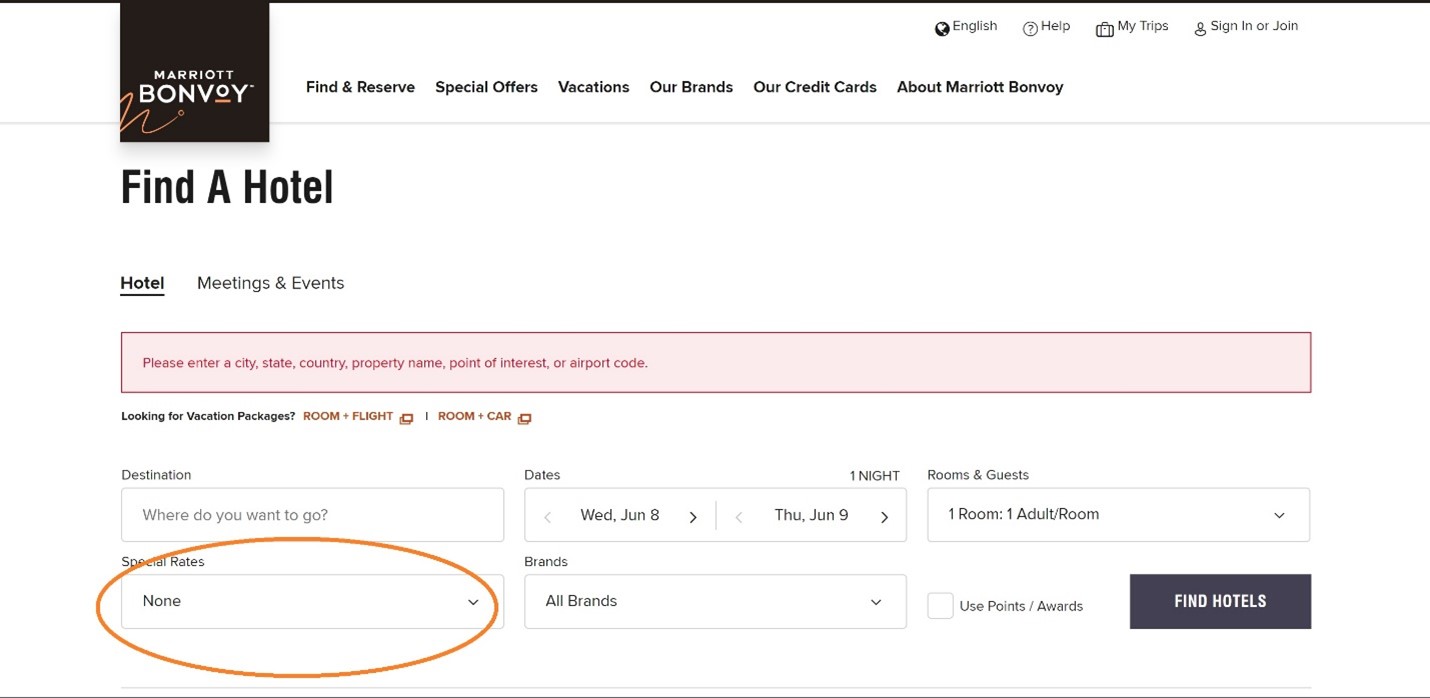 You can then find a hotel that you like for example: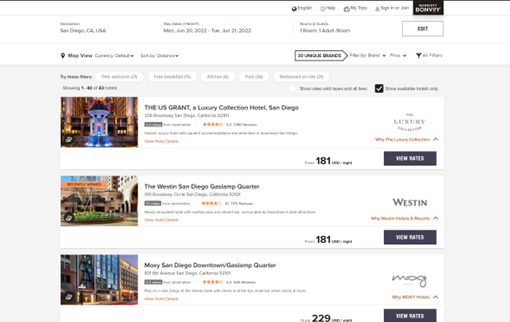 As you can see, we have found a "government rate" for the US Grant that is $181/night for our stay.
We will then return to the American Express site and do a search for this hotel and the desired dates.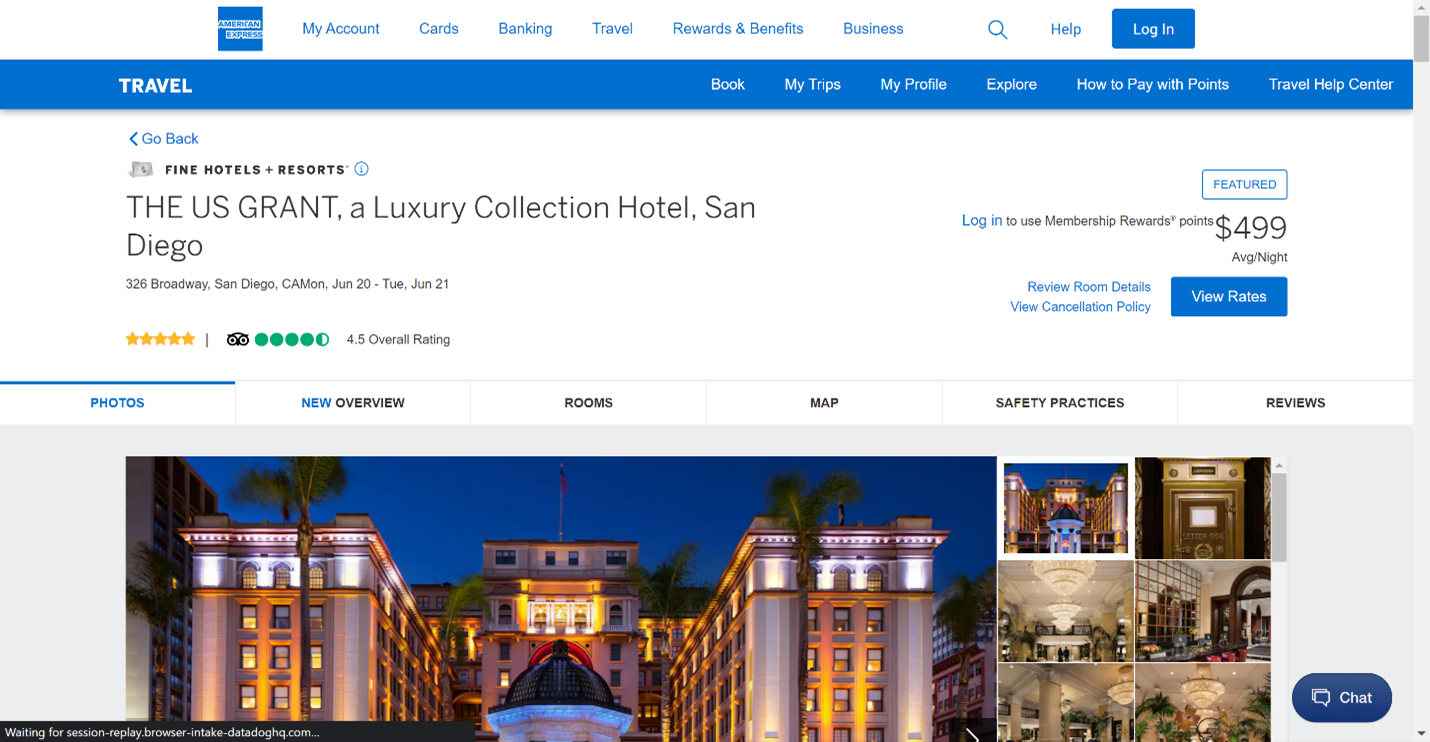 We find the same hotel and the same dates but the price on American Express is $499.
This case also includes a food and beverage credit of $100. Some choices will have a "Property credit" which is even better for our needs.

The Magic Hack
From here is where the magic happens. You will call up the American Express concierge.
At the time of writing the American Express concierge number is: 1-800 525 3355
You will tell them that you are a Platinum member, and you want to book this hotel for the desired dates; however, you can inform them that you have noticed that there is a government price that is available on the Marriott website for the same hotel/dates. Ask if there is any way that they can get that same price. They will say YES, but the agent will need to check into it. From there they will be contacting Marriott to confirm the price that you told them about.
They will then set everything up under your American Express card. You will get the hotel for that price and get the experience discount, a credit to the rate if it is a property credit, and Food and Beverage in our example.
ProTip: Be aware that the credit you receive is for one stay, not for each night of a multiple stay, so you need to book into multiple properties for a single stay, or with a spouse/partner's card for a second night to really take advantage of the deals.
As you can see this is a very powerful way to stay in some of the best hotels in the world and you are paying extremely low prices and receiving great amenities.
Good Luck, and God Bless!!!!!!
Brandon
Credit Counsel Elite teaches business owners how to get up to $500k every 6 months at 0% interest. Check out CreditCounselElite.com or CLICK HERE to learn more.