What You Want to Look For
If you are just getting into the credit game, you may be searching for your first or next credit card. You want the best type of card with near-guaranteed approval. That's why you'll want the exact science and step-by-step know-how in order to confidently get 10-40+ credit cards all at once with 90% approval odds. We teach all this to our students and mastermind members at www.CreditCounselElite.com. There are easy cards to get; however, not all of these are good choices; If you want to maximize your results even with your first card; we will do so by taking a step back and improving your odds.
Authorized Users (AU)
I suggest first becoming an authorized user (AU). If you have family or a friend that has good credit, they can help you. By adding you as an Authorized User, you will immediately get a credit history. Make sure it is for a card that has no missed payments, a long positive history, and low balances on each statement's closing date. The longer, the better, but a minimum of 5 average years, 9 average years or more is what you really want to put you in the best category. Being an AU can give you a good credit score almost immediately (within 30 days or less). My company can also help you find AUs if you need one at www.CreditCounselElite.com.
Secured Cards
I don't normally recommend these, but it is important to have a primary account in your name as well so you can also start with a secured card; this is how many people will create a credit history. If you give the bank a deposit (I recommend at least $1,000 or more), you will be provided a credit limit equal to that deposit. With this, the bank will be reporting to the three credit bureaus each month, and after about six months, you will begin to have a beginning seasoned credit profile. However, to build your best possible score, you want to keep your utilization below 9%, so if you have a $200 deposit/limit, you need to keep a balance below $18 each month on the closing date, which is another reason secured cards tend to set the individual using them up for failure in many ways. Many secured cards also require an annual fee, and, in most cases, you will not receive any benefits, so watch out for commonly high fees. Secured cards are notorious for having very high-interest rates, so if you have a balance, be careful. And lastly, any credit limit at or under $1,000 won't look good to other potential lenders in the future.
After six months with a secured card, you will begin to receive offers for other cards from that bank to move up to a regular card ideally (only if that bank offers it, so ask before getting a secured card if it will be considered to turn into an unsecured card over time.
My Favorite Beginner Cards
If you already have a score through your own primary accounts, some AU's, or a secured card, the best beginner cards I suggest you apply for are the following:
Earn unlimited 1.5% cash back on every purchase, every day

Earn a one-time $150 cash bonus once you spend $500 on purchases within three months from account opening.
Some Additional Good Beginner Cards
Cards to Stay Away From
There are many cards that have no redeeming value to them at all, and trick people to sign up; look at this, it might be the worst: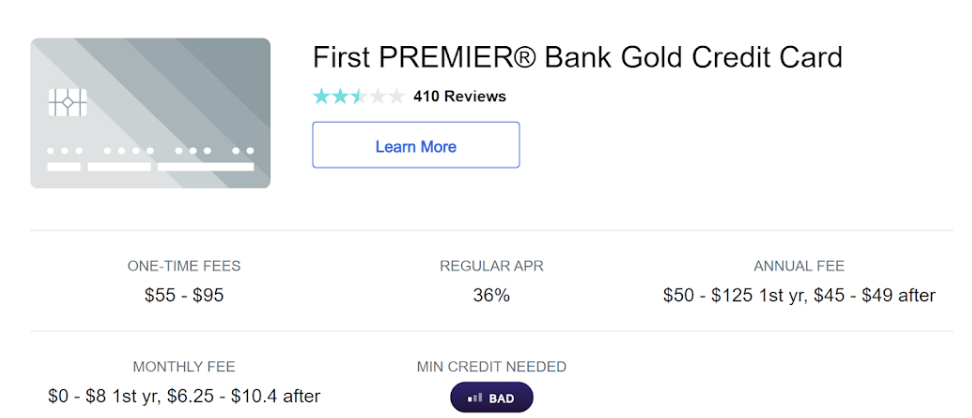 On top of the 36% interest rate, there is a
$95 processing fee just to apply

An annual fee of between $75 and $125, it drops to $45-$49 the following years

A monthly fee of $0-8 the first year, and it goes up to $6.25 to $10.45 after

A 25% fee to get a credit line increased
Always know what you are signing up for.
Additional Advice
It is always good to check http://WWW.USCREDITCARDGUIDE.COM and see what options each of these cards has at the time, as they constantly change.
If you have a bank account with any of these companies, you improve your chances of approval greatly.
Once you set up a new credit card, you need to use it correctly. You always want to ensure that your six credit boxes will stay in the highest position to have the best overall scores.
At Credit Counsel Elite, we teach business owners how to get up to $500K at 0% interest every six months; for more information, CLICK HERE